June 11, 2019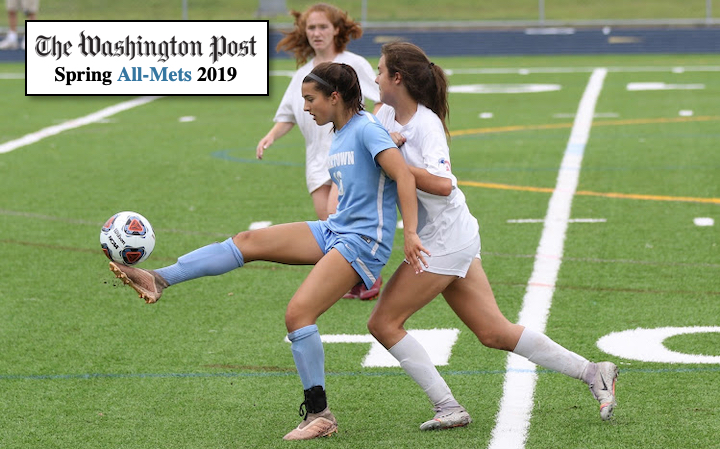 Lauren Flynn (in blue), a Yorktown High School junior who will play for Florida State University starting in the fall of 2020, was named All-Met First Team by The Washington Post for spring 2019. She helped lead the Patriots to an unbeaten 24-0-1 season that culminated in the Class 6 Virginia State Championship.
Eight players coached by Total Futbol earned 2019 Spring All-Met honors from The Washington Post's sports writers for Girls' high school soccer. The Post collected nominations from over 250 high schools across the DC Region and then selected the Player of the Year, Coach of the Year, 1st, 2nd, and Honorable Mention Best Teams for nine different sports.
Since the fall of 2012, players coached by Total Futbol staff have won All-Met honors for their contributions to local high school soccer teams 77 times, including four "Player of the Year" awards, 23 First Team awards, 18 Second Team awards and 34 Honorable Mention awards.
Find the full Spring 2019 All-Met Girls' Soccer team listings
HERE
The following TF players won All-Met soccer honors for Spring 2019:
All-Met Player of the Year
Julia Leas MIDFIELDER James Madison HS / Senior
How The Post describes Julia: "An ideal combination of grit and skill, Leas was a machine in the midfield for the Warhawks. One of the most aggressive and physical players in the area, the Georgetown commit could also use touch and precision to make plays on the offensive end. She was a first-team All-Met as a junior, leading the Warhawks to the state final. She finished with 26 goals and four assists this year."
College Commitment: Georgetown University
All-Met First Team
Lauren Flynn FORWARD Yorktown HS / Junior
How The Post describes Lauren: "Florida State commit was an aggressive force up top for the state champions, assisting on both goals in the state championship game."
College Commitment: Florida State
Macy Monticello DEFENDER Yorktown HS / Senior
How The Post describes Macy: "Wisconsin commit was a dynamic player from the back for the Class 6 champion, posting 14 shutouts."
College Commitment:
Wisconsin
Serena Pham FORWARD Chantilly HS / Senior
How The Post describes Serena: "Two-year captain had another stellar season for the Chargers, scoring 15 goals and adding five assists."
College Commitment: Alabama
Natalie Wilson MIDFIELDER Oakton HS / Junior
How The Post describes Natalie: "Penn State commit was the heart of Oakton's offense, scoring nine goals and adding seven assists as the Cougars made it to the region semifinals."
College Commitment: Penn State
All-Met Honorable Mention
Anastasia Hubbard GOALKEEPER Westfield HS / Sophomore
College Commitment: TBD
Mia Pham MIDFIELDER Chantilly HS / Senior
College Commitment: James Madison University
Kendall Robertson MIDFIELDER McLean HS / Senior
College Commitment: Rice University